Sculpturer José Luis González is back in Puerto Morelos after a one year absence! Here is the article Joanne wrote about him back in spring 2015…
Sand in the Form of Art in Puerto Morelos
by Joanne Miller Birce (This article originally appeared in the USA Today Cancun Edition newspaper in 2015)
Sculpturer José Luis González's art is beautiful, powerful and stunning. It is also temporary. González's chosen medium is sand, and after days of work, it takes only hours for his art to return to the beach from which it was created. Originally from Venezuela, he has spent his last six months creating amazing works of art out of sand on the beach in front of the Malecon in Puerto Morelos. This is the first year that the town has been fortunate enough to have this talented artist visit.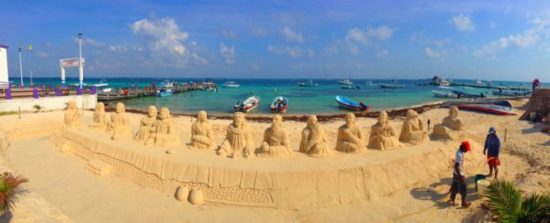 Sand sculpting as an art form has been around for centuries. No one knows exactly how long, but it is thought that the ancient Egyptians made sand models of the pyramids. González began sculpting over 25 years ago in Barquisimeto,Venezuela. He learned to sculpt using stone, marble, granite, bronze and other materials. Due to cost and his love of the ocean, he soon found sand to be his medium of choice. Since then he has created sculptures on many beaches throughout South and Central America plus other parts of Mexico.
To create a sculpture, González begins by filling wooden molds with mounds of sand and a little sea water which he and his four helpers compact with a tamper to form a working base. Using more molds, stacked on top of one another, he slowly forms a rough outline in the shape of the art he is creating. When the sand is compacted to a hard surface, he removes the wood to reveal a blank "canvas" on which he begins to carve. He uses a variety of hand tools to cut, sculpt and shape the sand. He then finishes off the fine details by using a straw to blow the last of the excess grains away.
González finds joy in replicating the great works of art created by the Renaissance masters. When asked if he uses a photo to copy them as he sculpts, he said that only sometimes for the robes, but when it comes to the faces, his hands are guided by the Father. A deeply spiritual man, he prefers to replicate the works of his favourite artists, Leonardo da Vinci and Michelangelo, over modern artists. Evidence of his passion was obvious at Christmas when he created a beautiful nativity scene. González really outdid himself at Easter (Semana Santa) by sculpting a larger-than-life-size version of Leonardo da Vinci's "The Last Supper" and Michelangelo's "Pietà", a famous Renaissance sculpture depicting the body of Jesus in his mother Mary's arms after the Crucifixion. His "Pietà" took González 9 days to complete after taking a week to build the base. Finished, it stands 3.4 meters high.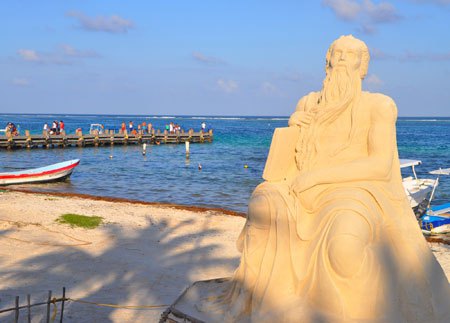 It is small in comparison to his version of "The Last Supper" a three-dimensional rendition of the painting. The original painting is a scene of Jesus with the Twelve Disciples, as it is told in the Gospel of John, 13:21. Da Vinci, and in turn González depicts the shock that occurred among the Twelve Disciples when Jesus announced that one of them would betray him. González's sand sculpture is 17 meters long and 2.20 meters tall. It took 20 days to complete with González and his four helpers working twelve to fourteen hours a day. The artist has gone into great detail with this fleeting piece of sculpture, even carving out the loaves and wine on the table.
Once the sculptures are complete, they must be sprayed with sea water every 40 minutes to keep the sand from blowing away. A sudden rainstorm and all could be lost as is with "Pietà", which is now starting to return to its original state. I asked González if he found it sad that his art was not permanent and he told me that his art was just like the cycles of life, one must be swept away for the next one to be begin.
As for the future, González plans to stay in Puerto Morelos for a while. He will continue to sculpt in sand until the rainy season comes, working only for tips that are given by the many people that come from near and far to see his work. He says he enjoys being in Puerto Morelos and that the mayor, the Casa de Cultura and the people have been very welcoming to him. Over the summer he will be teaching local children how to sculpt through the Cultural Centre. Right now he is currently completing a life size replica of Michelangelo's "Moses". Once completed, he will begin work on a very special piece for Mother's Day on May 10th. If you have not had a chance to see his amazing work, it is another good reason to visit the village of Puerto Morelos.
You can follow González on Twitter @JosseArenarte or on FaceBook as Josse Arenarte.
This article was originally published in 2015 in USA Today & Alma Libre Beach Reads Newsletter