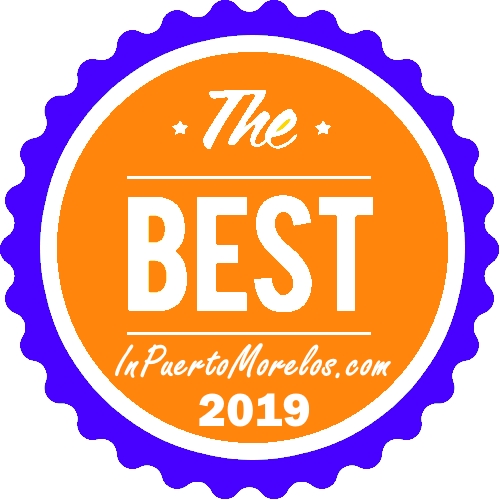 Many thanks to those who took part in our annual "Best In Puerto Morelos" survey. We started this survey as part of our Beach Reads newsletter back in 2005 when we owned Alma Libre Bookstore, so that visitors could share their favourite things about Puerto Morelos with other visitors (and to make sure we weren't missing out on anything ourselves!)

So without further ado… here are the results of the 2019 InPuertoMorelos.com Beach Reads Survey. We will start with the last question we asked, and move up to the first.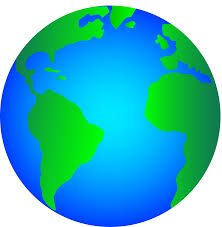 12) Where are you from?
1. USA 62%
2. Canada 28%
3. Mexico 4%
4. Unanswered 4%
5. Other 2%
11) Next, we asked one of our favourite questions. "What is your best tip or hint to give a new visitor to Puerto Morelos?" In no particular order, here are your most common answers.
"If you snorkel go out from shore in front of Dia y Noche Beach Club and snorkel towards the round white buoys, you will discover the Ojo de Agua ocean cenote teeming with fish."
"For solo travellers, there are always people to hang out with and have a fun time!"

"Stay away from the big resorts – stay in a local place, get out, walk around, talk to people, and you'll see what an amazing community there is here."

"Yoga on the beach with Mina"

"Read InPuertoMorelos.com" (Unsolicited comment, promise)

"Enjoy the people. You will not be disappointed. Slow down!"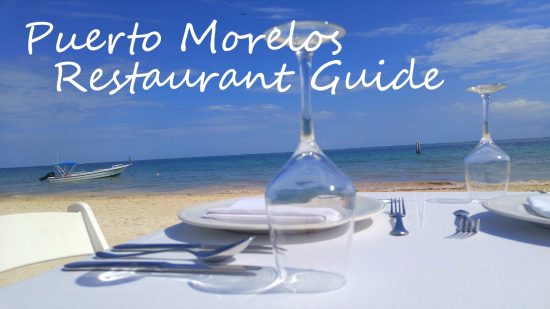 10) We're always trying to improve our website, so we asked, "What information do you get from InPuertoMorelos.com?"
We were happy to learn that 76% of respondents use InPuertoMorelos.com for our Restaurant Guide, 49% use it for our Happy Hour list, 48% use it for our Day Trips and 37% use our trusted Vacation Rentals page.
9) Where do you get your news/information about Puerto Morelos from?
We also learned that just as many people get their information from our InPuertoMorelos.com site as from our Friends of Puerto Morelos Facebook group. These were your top two sources of information on Puerto Morelos followed by Facebook in general.
8) Another of our favourites, we asked you to complete this sentence "Whatever you do, do not miss (BLANK) in Puerto Morelos".
The top answer to this question was "the beach", which was thought was a little obvious. Some of the other answers were a little more enlightening:
Spend time in the main town square at night, both on the port side or the Colonia side, meeting people, watching a basketball game or just enjoying some street food. (Great tip!)
Take a ride on the local bus. Ride the two Collectivo routes and explore. (Cheap and fun way to get the lay of the land)
Salsa dancing at Don Mexcal.
Flamenco dancing at Pangea.
Catch the sunrise and sunsets every day.
7) In hopes of improving our website, we asked, "Do you subscribe to InPuertoMorelos.com?"
We're delighted that 81% of you subscribe to our Beach Reads Blog. Gracias! Subscribers get an email every time we share a new (hopefully informative) Beach Reads post. We usually write one or two posts a week. If you don't subscribe, please click here and join us.
6) A new question this year, "What is your best "hidden gem" in Puerto Morelos?" While many of these are not that hidden to regular Beach Reads readers, as we have written about many of them before and even Shouted Out a few , they may be new to you.
1."The Pan Man with all the yummy pastries." (We think this is the bakery car that drives around in the evening)
2. "Churros in the park in the Colonia"
3. "Off the Vine – have wine and a meat & cheese platter while sitting in front of the shop.
4. "The Godfather Jewelry Store – Ruben and Magnolia in particular!"
5. "Alma Libre Bookstore" (We agree!)
6. "DK" (this restaurant was mentioned several times)
7. "The fruit stand on Ninos Heroes with freshly squeezed orange juice."
8. "Tuch-Tlan" restaurant
9. "Rastaquitos" (we need to check this restaurant out, several folks mentioned it)
10. "Fonda Americana" (one of our favourites)
11. "Casa de los Viajeros" (Thanks to those of you those who mentioned our casa!)
12. "South Beach" (several people mentioned this special spot)
(Gracias to the TexMexExpats for suggesting this question. Click the link to check out their informative and fun-to-pronounce blog)
5) Where is your favourite place to stay in Puerto Morelos?
There was no clear winner in this category, but we learned that almost all respondents stay in vacation rentals, or in their own homes.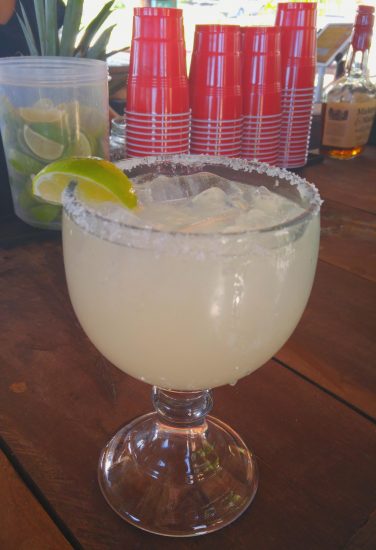 4) Where is your favourite Happy Hour?
My Paradise owned this category. People love happy hour at My Paradise.
3) Favourite "local dish"? This dish could be anything that you think is best served in Puerto Morelos.
The top two local dishes that were mentioned over and over again were ceviche and empanadas. Definately two things you really don't want to miss and are easy to find in Puerto Morelos. But even though you are in Mexico, you still seem to want to a burger! The "Jane Burger" at The Burger Underground was mentioned many times by many burger buffs.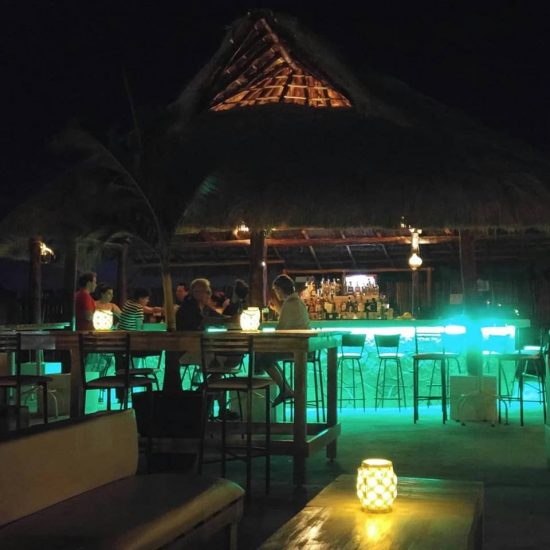 2) What is your favourite place to have a drink? (Does not have to be alcoholic).
La Sirena's Rooftop was the winner in this category with My Paradise as a close second. The rooftop is a hit!
And last but certainly not least, the most popular survey question we ask is "What is your favourite restaurant?" Below are a few of the results from the first years of the Beach Reads Survey and the early restaurant favourites. How many do you remember?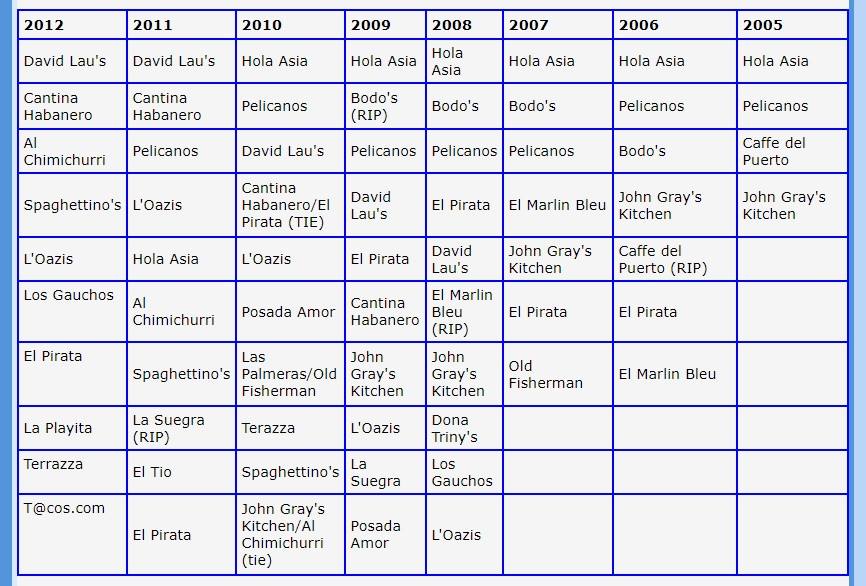 But, let's not live in the past! Without further foofaraw, here are your favourite restaurants from our 2019 survey. (Please insert drum roll here)
La Sirena
El Campanario
Chilpayas/El Nicho
Cantina Habanero
Taninos/Los Gauchos
El Pesquero
La Pizza Nostros
Al Chimichurri
John Gray's Kitchen/Punto Corcho
Spaghettino/T@cos.com/El Pirata/La Papillon
DK/Mangata/The Burger Underground
I Wanna Pizza/La Casa del Pescador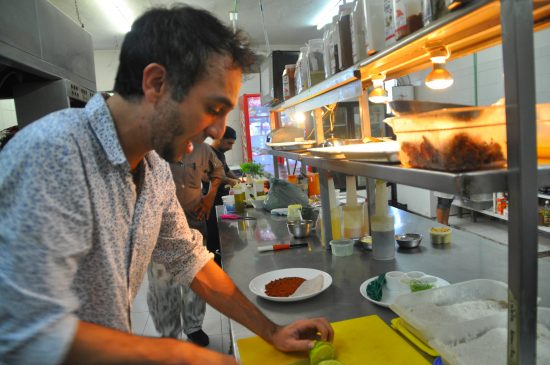 CONGRATULATIONS to Anthony and the rest of the great staff at La Sirena Puerto Morelos for their second appearance at the top of the survey in as many years.
The BIG difference we noticed in this year's survey results was just how many different restaurants were mentioned. We now have MANY more choices of places to dine than we ever have before. In fact, so many places were mentioned and the votes so close that we extended the list to the top 12 places, (which is actually 19 restaurants because we had so many tie votes.)
If you would like to compare these to our 2018 Survey Results you can click here. And if you would like more information on these restaurants please check our voluminous restaurant guide here.
A BIG GRACIAS to everyone who completed the 2019 InPuertoMorelos.com Beach Reads survey. We hope you enjoyed the results and we look forward to doing it again next year. Make sure you subscribe to our blog so that you don't miss out on everything going on InPuertoMorelos.