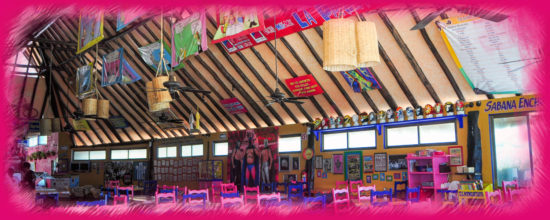 La Panza es Primero, known for its bright colours and lucha libre theme is finished in Puerto Morelos, and as far as we can tell, in all of Mexico. La Panza is actually a small chain out of Spain. According to their website, they still have restaurants in Madrid.
In recent weeks, we noticed the distinctive decor was being removed and painted over. According to staff, the new restaurant will have seafood, but does not yet have a name. They say they will be open from 9:00 am to 7:00 daily, but in typical Puerto Morelos fashion, if people want to stay a little longer, they will stay open.
Update: March 09, 2017. The restaurant now has a name. It's not terribly catchy, the name is, "Puerto Morelos Fish Market Restaurant".
For a look back, here is Panza's website. La Panza es Primero